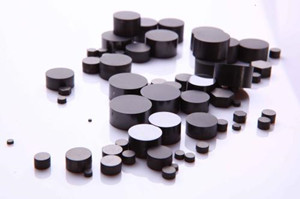 As far as metal binder is concerned, there are 2 kinds of PCD blanks, withou and without binder. Generally speaking, PCD blanks with binder are widely used. While PCD blanks without binder actually perform better in hard wires those will bring high temperature in wire drawing process.
That's because the metal binder could only bear 650℃. If the temperarue is higher, the binder will be carbonized. Then the diamond fall off and the die becomes broken. While the binderless blanks solve this problems and extend the PCD dies' life time.
Binderless PCD Blanks
D6,D12,D15,D18,D21,D24 binderless blanks are available. All of them are self-supported.
Appliable Wires
Stainelss steel wires and cords, molybdenum,wolform,chrome,copper, aluminum,nickel,chrome, steel cord,electric wire & cable,gas shield welding wire,flux-cored wire,automobile wire,construction wire,rigging wire,optical fiber and so on.
Features
Perform well in hard wires.
Long life time.
Superior abrasive resistance and hardness.
Imported sintering powder with high reinforcement.
Predictable wire surface, roundness.